iPhone SE2, XS, XS Max, XR, 11, 12 and the iPhone 13 versions come with dual SIM functionality. You can use eSIM as well with a physical nano-SIM card. There is no need to rely on a single SIM with these latest iPhone models. eSIM is a digital type of SIM which allows you to use data issued by the network operator. You can choose a mobile rate plan and use data eSIM as your secondary SIM.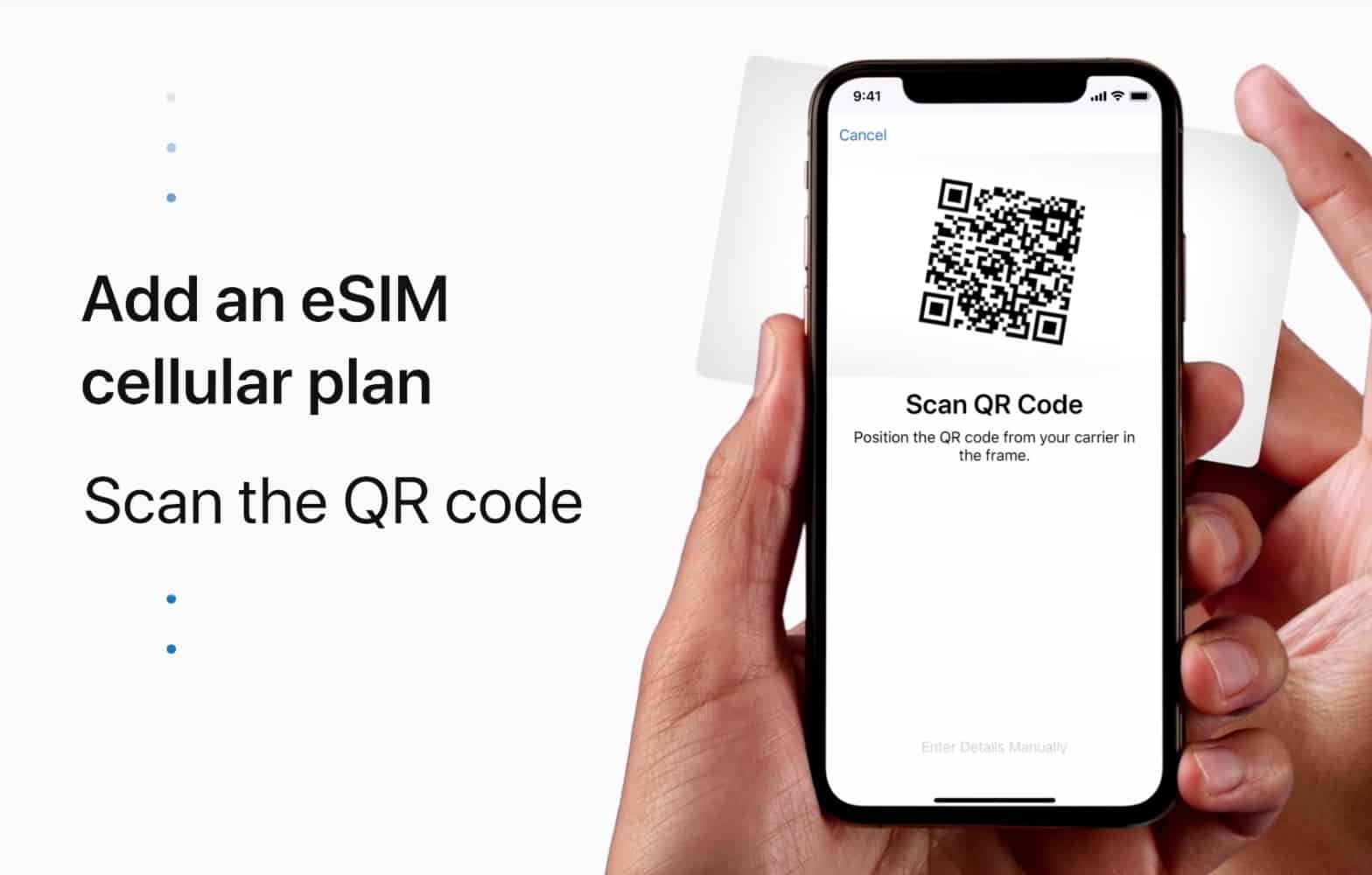 There are many benefits of using eSIM on your new iPhone 13 Pro MAX, 13 Pro, 13 Mini, 13, 12 Pro Max, 12 Pro, 12 Mini, 12, 11 Pro Max, 11 Pro, 11, XS MAX, XS, XR or SE 2020. You have all functionalities similar to using the dual-SIM phone. You can use two SIMs on your phone for different purposes, like official or personal uses. Also, you have full control over data usage and set a network plan as per your needs. You can also make preferences whether you want to use your nano-SIM as your main SIM or eSIM as your main SIM.
Complete steps to set up an eSIM on iPhone
You can easily set up a data eSIM on your iPhone. You just need to make sure your phone is unlocked. If your phone is locked, you will have to use both SIMs from the same network. Another important thing to remember is that dual SIM features if only available in iPhone XS, XS Max, XR, or later models running iOS 12.1 or later models.
1. Install eSIM on your iPhone
Let's proceed to the following steps to install an eSIM on your phone. Different network providers offer different ways to install their eSIM.
By scanning QR Code
First, you will buy an eSIM from the network provider. You will receive a QR code from them which contains all the information.
To install eSIM, you need to open the Camera app and scan the QR code you received.
There will be 'Cell Plan Detected Notification.' Tab on it.
Continue the process by tabbing on 'Continue' at bottom of the screen
Now tab on 'Add a Cell Plan'
You may be asked to enter a confirmation code, enter that code which you will receive from the eSIM operator.
By using Operator Application
First, log in to the App Store to download the operator's app
Launch the app and buy a mobile plan
Now you will install the data plan which you purchased
If you need any information, you can contact your network operator
How to Install eSIM by entering the details manually
In some cases, you will need to install the eSIM information to your phone manually. It requires following easy steps to install eSIM.
Go to 'Settings'
Touch Cellular Data or Mobile Data
Now touch Add Cellular Plan
Tab on 'Enter information Manually' at the bottom of the screen.
2. Activate eSIM on your phone
You can activate your eSIM by following a few basic steps given below.
Go to 'Settings'
Tab on Cellular Data or Mobile Data
Tab on eSIM plan which will be under Cellular Plans
Tab on 'Turn on this line'
That's all. Your eSIM will be connected to your network provider shortly. You can use your eSIM to take all advantage of dual SIMs on your iPhone.